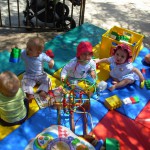 Session Information
Bondi Beach Playgroups operate at two great venues, our playgroup home in North Bondi and Francis Street/Thomas Hogan Reserve*. We offer your children indoor as well as outdoor play equipment.
We invite you to wander into the sessions and find one that suits you. You can visit up to two times before joining. Once you are a member, you can come to as many sessions as you like – provided they are not listed as full. Contact individual session leaders for more information or check the facebook page for updates.
*Please note the Francis Street venue is not currently operating as we do not have a session leader. If you are interested please contact us.
Weekly Timetable